11 Sept | Münster | Kizomba Bass | Workshops + Party
September 11 @ 18:00

-

September 12 @ 02:00

€9.95 – €55.80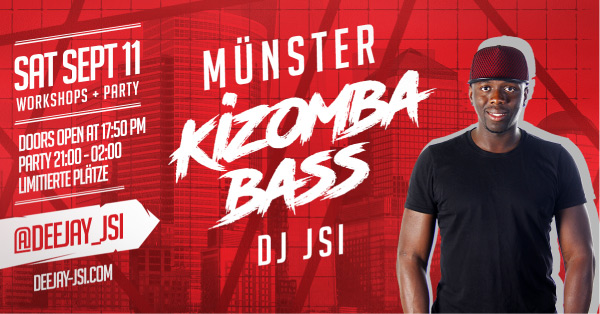 Für Deutsch benutzen Sie bitte die Übersetzungsoption oben auf dieser Seite
Kizomba Bass Party & Workshop.
Yes, we are back in Münster to give an awesome Kizomba night (Kizomba Bass). On this night there will be 3 workshops and a party for you to enjoy dancing Kizomba. So remember to invite your friends because is going to be awesome and big in Münster City.
Kizomba Urbankiz Workshops
In addition to a short repetition and a number of elements, you will learn more techniques, attitude, musicality, and shines to improve your basic knowledge of Kizomba Urbaniz. To follow this workshop you need to know the basics of Kizomba.
Teachers: Shervin & Kelly

Planning
17:50 – 18:50 Kizomba Urbankiz Beginner (Canceled)
18:50 – 20:50 Kizomba Urbankiz All Leven
Party with Deejay
Dj Afrosom & JSI will be there to bring you the latest tracks for you to dance on. 90% Kizomba, Ghetto Zouk, Semba, Tarraxo, Tarraxa. 10% Salsa & Bachata.
Practice
21:00 – 02:00
Prices:
– Party: €9.95
– 2x Workshop: €27.95 P.p.
Corona Rules
Weiterhin negatives Testergebnis oder Impfnachweis mitbringen!
Zutritt nur für die 3 Gs.
FAQ
Do I need a dance partner?
No, you don't need a dance partner to sign-up
Do I need to dance with a facemask?
No, you need to wear one by entering the building
Do I need to have any dance experience?
No, you can learn a lot during the event.
Are we allowed to switch?
Yes, but it will be your own choice
Will I get a refund if there are new rules?
Yes 100%
Address
SALSOMANIA
Mauritzstraße 30
48143 Münster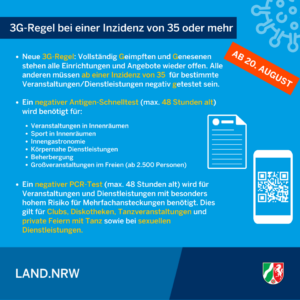 For more info about the rules follow this link